We buy used Cars for Export
We buy all cars from all over Switzerland. If you are ready to sell your automobile – then you have found the perfect web page with «mein-auto-verkaufen-schweiz.ch» . The sale and purchase of a passenger car is a matter of trust. Since we also rely on referrals, we take great care to pay our customers fair prices for the used cars.
We buy your second-hand vehicle for the car-export immediately and without complications. If you want to sell your automobile, then simply call us with absolutely no obligation (079 650 50 99) or write us an E-Mail. Tell us your approximate expectations of your price. If we are interested in your proposal, we will contact you as soon as possible and pay the agreed amount for your car immediately in cash.
Family business since 1994
Our family owned company was founded in 1994 and we have decades of experience in trading and exporting all kinds of vehicles, second hand and especially used cars. This means that you will always get a great service and our goal is that our customers are satisfied.
The best prices guaranteed
Since no intermediate dealers are involved, the car purchase takes place directly through us. This of course guarantees you a fair and correct price. Even if your car has been damaged in an accident or has a high number of kilometers on the speedometer: we will gladly support you in selling your car. Even an engine failure or a broken gearbox on your auto does not have to be an issue for a purchase. Thanks to our large network and the numerous contacts worldwide, we always find an interested end customer even for such special cases.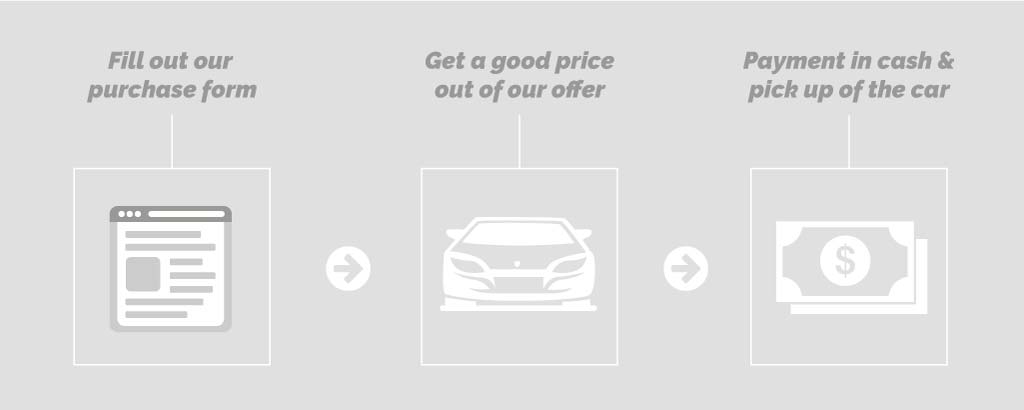 Request a non-binding valuation:
We do not have to hide, because we are sure that with us you will get the best price for your used car. We offer you the full service. Of course, we are also always available to answer any questions you may have about deregistering your vehicle. And of course we offer a first class service all over Switzerland.
With our own transporters, we take care of the pick-up of your car throughout Switzerland if it is no longer in running order. It can be taken for granted that we also take care of the immediate deregistration at the respective road traffic office, so that nothing stands in the way of the smooth sale of your car. We will then also immediately send you the deregistration confirmation.
Thanks to years of experience in the car market, old cars with high mileage, vehicles with engine damage, transmission damage or accident are not a problem for us either. There are also garages or spare parts dealers for defective vehicles. We will make you a special offer – it is well worth comparing!